Posts: 1526
Joined: Tue Apr 28, 2020 12:49 am
Contact:
Posts: 1859
Joined: Tue Jan 22, 2013 9:28 pm
Yeh, try moving that Mark, its not been board tied for a long time, at least 20 builds.
Paradise phonostage, benz lp, kuzma stabi s 12
Bpbp, nuerochrome mod86p bridged monos
Yamaha ns100m, quarter cut Oak veneer, raal 140-15d ribbons
Site Admin
Posts: 6797
Joined: Wed Apr 27, 2011 2:02 pm
Where do you connect it then - just to the case/mains earth?
Mark
Posts: 1526
Joined: Tue Apr 28, 2020 12:49 am
Contact:
Argh, first PSU case (right) looked so good -- then I managed to scratch part of the logo off the second one! It seems that the screen printing ink really doesn't cure particularly well on plastic OR aluminum. Easy to re-do the one stencil but not a good sign for the long-term durability of the fasciae...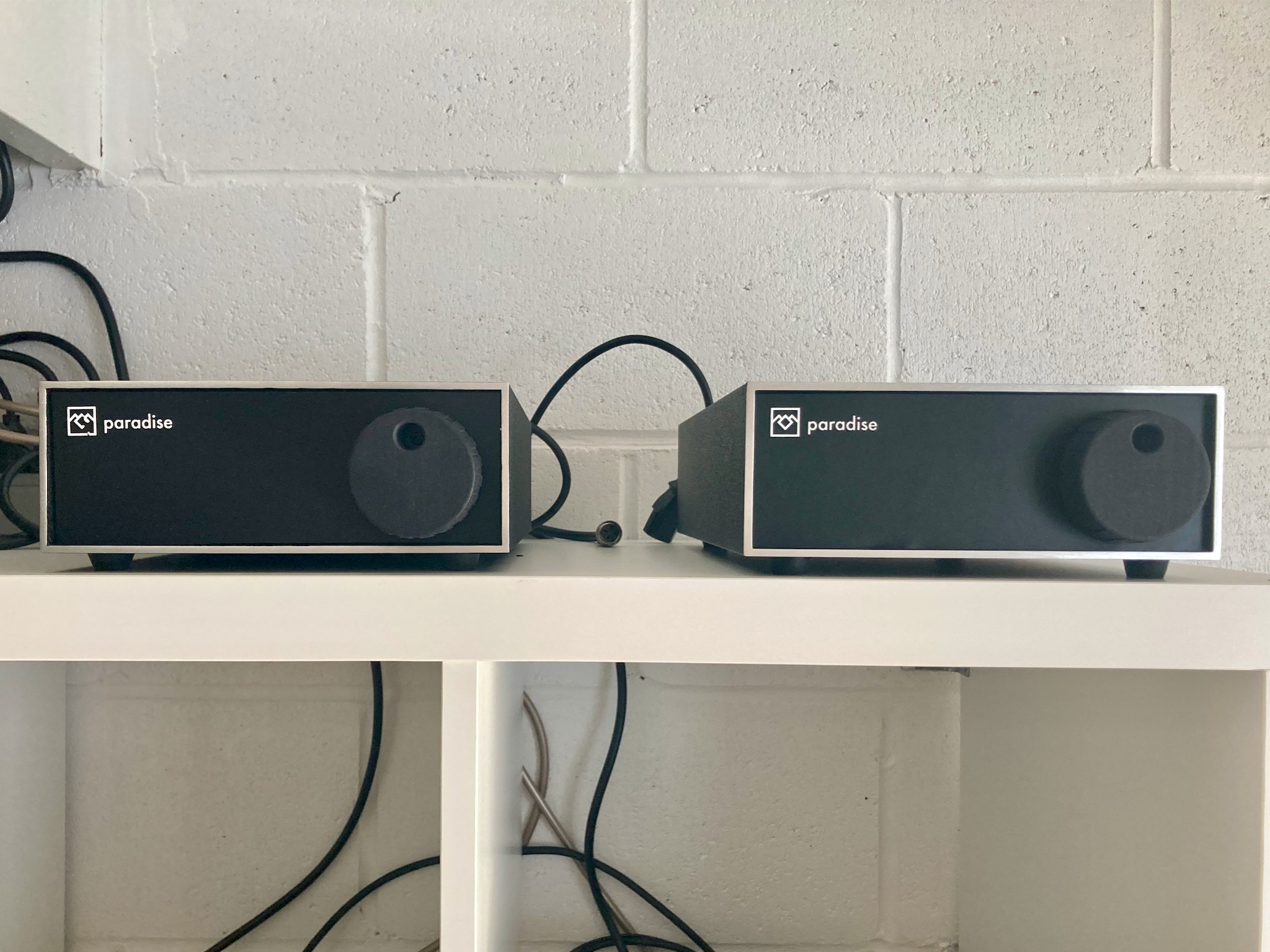 Posts: 1526
Joined: Tue Apr 28, 2020 12:49 am
Contact:
Fun adventures in cartridge loading tonight. During our Zoom chat the other day Mark said he thought I'd be hard pressed to hear 25 ohm differences. Well it could all just be in my mind -- recent discussions about burn-in have me doubting everything -- but I think I really did.
It seems to be a pretty straightforward tradeoff between euphonic presentation and clarity. My test album was Side 1 of Pet Sounds (I truly love that album, and the Analoge Productions pressing is really good). At 500 ohms, it was round and warm and gave me a tickle in the belly and I thought it was perfect. But there was a bit of bass bloom in the bowed bass in "You Still Believe in Me." At 600 ohms, things snapped into much clearer focus, making me realize I was in fact missing something at 500 ohms. But now I was missing the tickle in the belly, and the bowed bass was too hollowed out. At 550, goldilocks scenario, liveliness, richness, clarity, everything. I though I liked 600 a bit better than 500 all things told, so tried 575 next, but no, it was missing the richness. 525 next, and it was better than 575 but just a touch too syrupy. So 550 seems just about perfect, leaning lower if I had to choose. Maybe 540 or something would be ideal. Not sure I could tell the difference between 550 and 540, though!
Of course I was listening not only to loading resistors but also to the Paradise itself. I think it's really starting to "reveal" itself to me. I'm still excited by the cymbals and snares and the acoustic textures (like bowed basses) as I was last night. But tonight's word is "intimacy" -- there is a feeling of being right there, close to the music, immersed in it even, that I haven't experienced before. Fun times!
--
I continue to experiment with placement, for aesthetic and practical reasons. I think the PSUs look very nice stacked like that, and that would leave room for the Mober PSU box. The main Paradise boxes would look great up there on the top row stacked, too (or sitting on top of the PSUs). But the arrangement they're in is better for them, right? Seems they'd like lots of room around them for reasons of heat dissipation, and also to be away from transformers and other things that could mess with the delicate signals. Maybe I could stack the two main boxes in the shelf right next to the turntable -- or would stacking be bad for heat (you build a special stand, right Mark — or was that just because of the acrylic cases you use?)
Also, annoying as the scratched-off logo incident was (I barely touched it), I just went ahead and made another.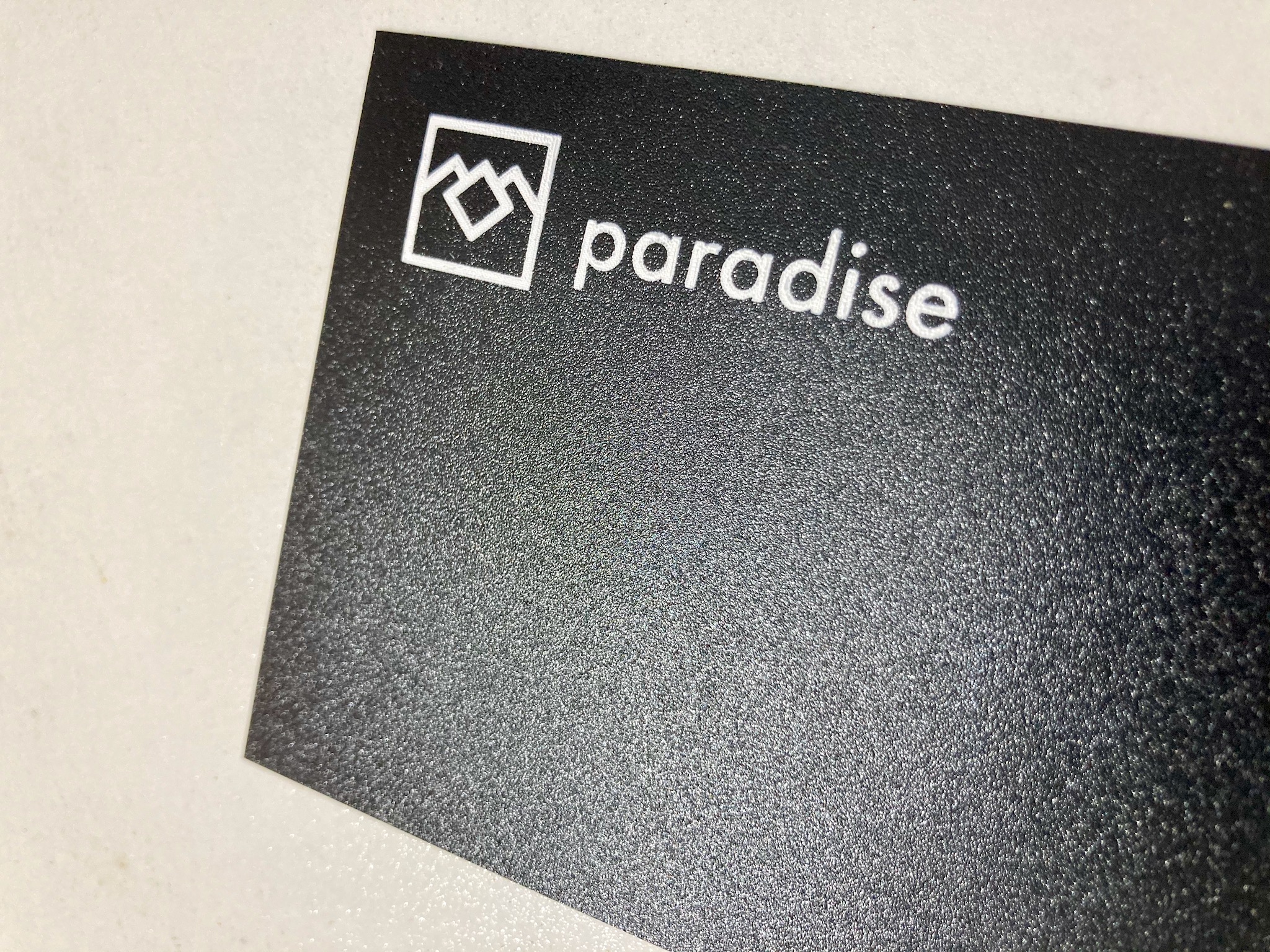 The old logo came off way too easily -- a few scratches and not a trace was left. I tried some very gentle heat-setting with this one -- low setting on a hair dryer -- but maybe something like a clear coat of lacquer is needed to protect the logos?
Site Admin
Posts: 1026
Joined: Wed Apr 27, 2011 11:28 am
Location: York, England
Contact:
Just a quick question, where did you get the shoebox cases from? Looks like you've got some new one spare.
Flat Earth rocks with PJC!

LP12/Ittok LVII/Tranquility/RubiKon/ASAKA/RadiKal
Topping D10 - Soundblaster X-Fi HD
SONY CDP 338ESD
SONY TC-K444esII
JVC AX-Z1010TN
Linn SARA (YNWAN bespoke build)
Posts: 505
Joined: Tue Jan 02, 2018 9:58 am
If you look at the vehicles decorated with advertising, these are ink-jet printed and then over-laminated with a clear film to protect the ink from abrasion and the elements. You could try a self-adhesive vinyl to overlaminate the whole front panel
Site Admin
Posts: 6797
Joined: Wed Apr 27, 2011 2:02 pm
Not in my experience - the plastic film is directly printed onto and then stuck to the van (a friend did his) A protective film isn't a bad idea though
.
Mark
Posts: 505
Joined: Tue Jan 02, 2018 9:58 am
If you don't overlaminate it you can apply a clear coat to vehicle livery or of course leave it to the elements. It really depends on how long you want it to last.
Site Admin
Posts: 6797
Joined: Wed Apr 27, 2011 2:02 pm
Oh, is that right - I didn't realise there was an over laminate option. Clear coating it seems pretty permanent though.
Mark