Posts: 1859
Joined: Tue Jan 22, 2013 9:28 pm
Thats still fine for shunt voltage and gives plenty of space for higher mains.
Paradise phonostage, benz lp, kuzma stabi s 12
Bpbp, nuerochrome mod86p bridged monos
Yamaha ns100m, quarter cut Oak veneer, raal 140-15d ribbons
Posts: 1526
Joined: Tue Apr 28, 2020 12:49 am
Contact:
Okay perfect! Glad we've got all that LED/power resistor stuff sorted out!

LED looks perfect with the 10k resistor too...
Posts: 1526
Joined: Tue Apr 28, 2020 12:49 am
Contact:
All cases have all their holes; everything is soldered in place except for the input/output signal and the ground post; and I have put lots of extra screen prints on the insides of the cases.
And all this talk about heat-setting screen printing ink gave me an idea for another place to stick a logo...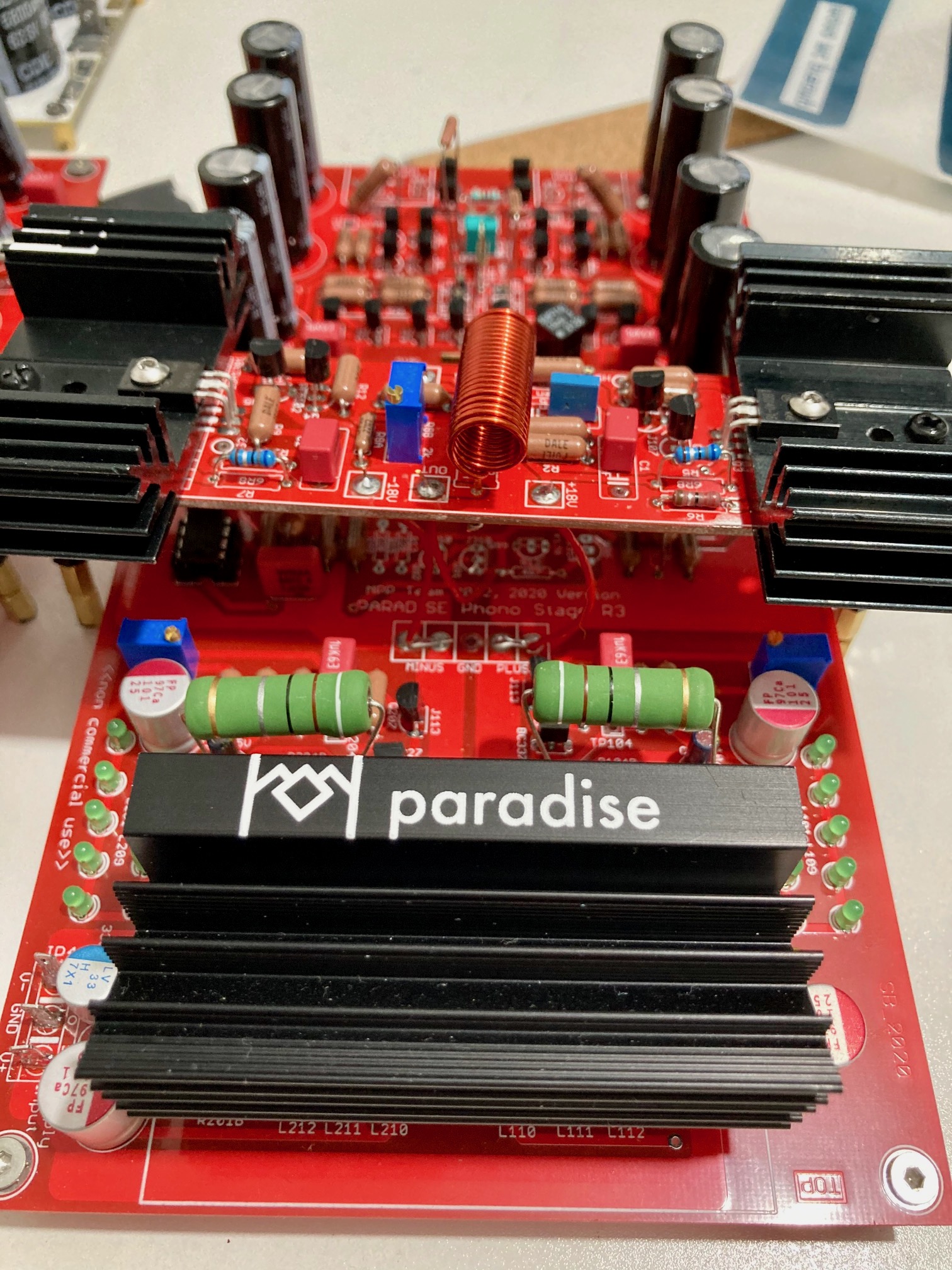 Posts: 1526
Joined: Tue Apr 28, 2020 12:49 am
Contact:
Almost there! I was hoping to have the cases all built up before my run, but I still have one PSU box to go. Everything is soldered, though, and we're very close. I think the in-case silk screening I did last night has turned out quite neat
Last joint I soldered:
First completed box: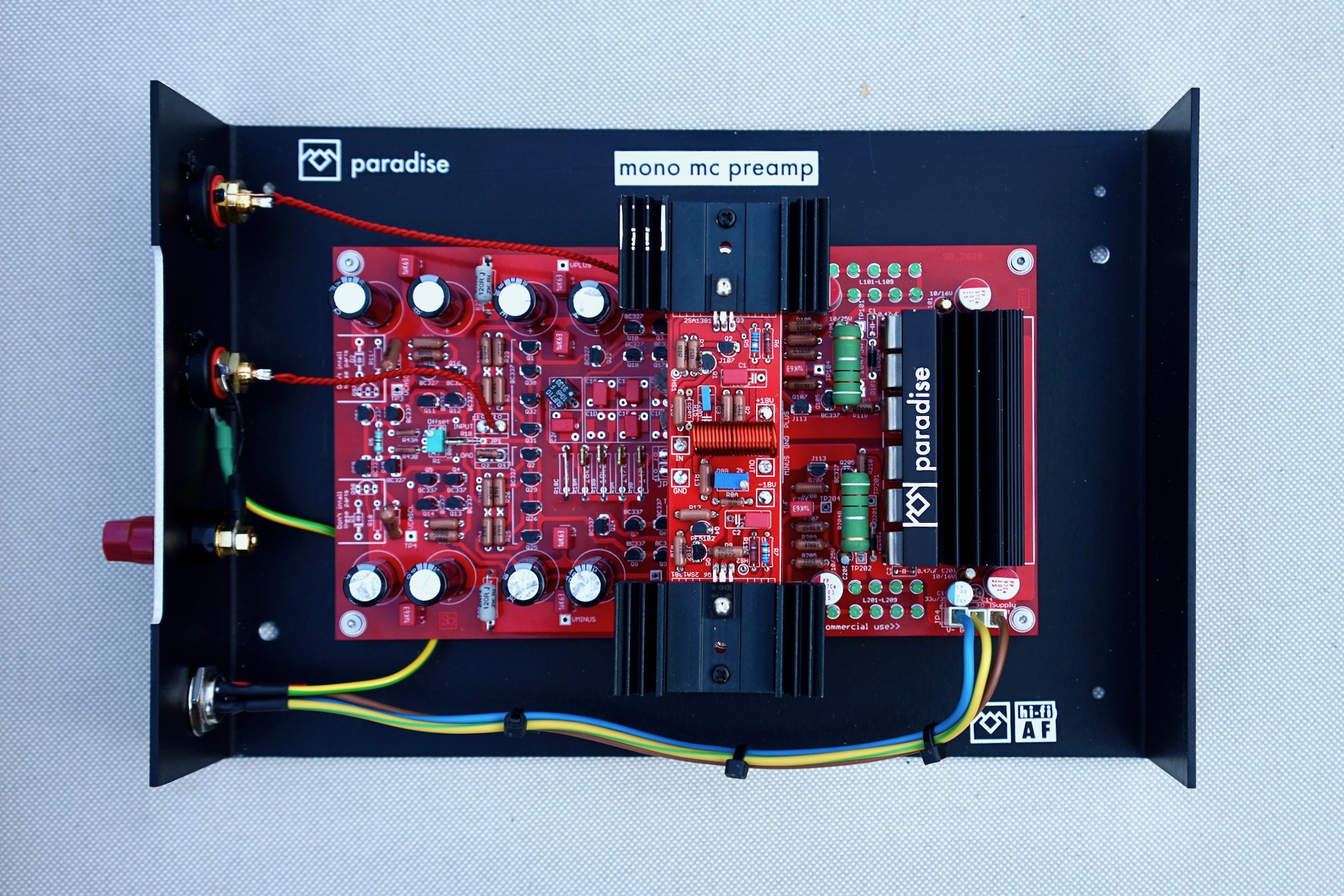 Both together (lots of mirror images!):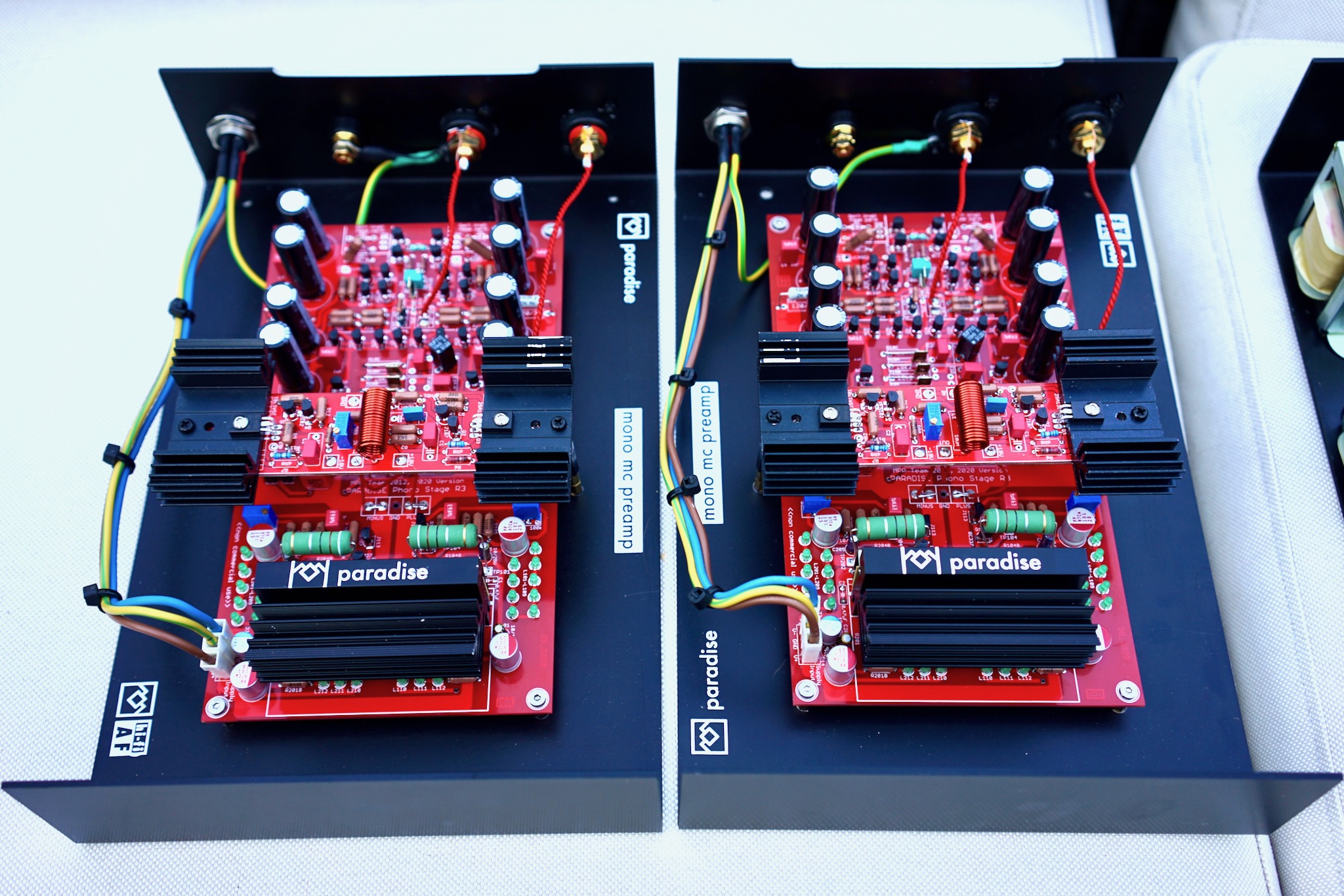 First PSU box done: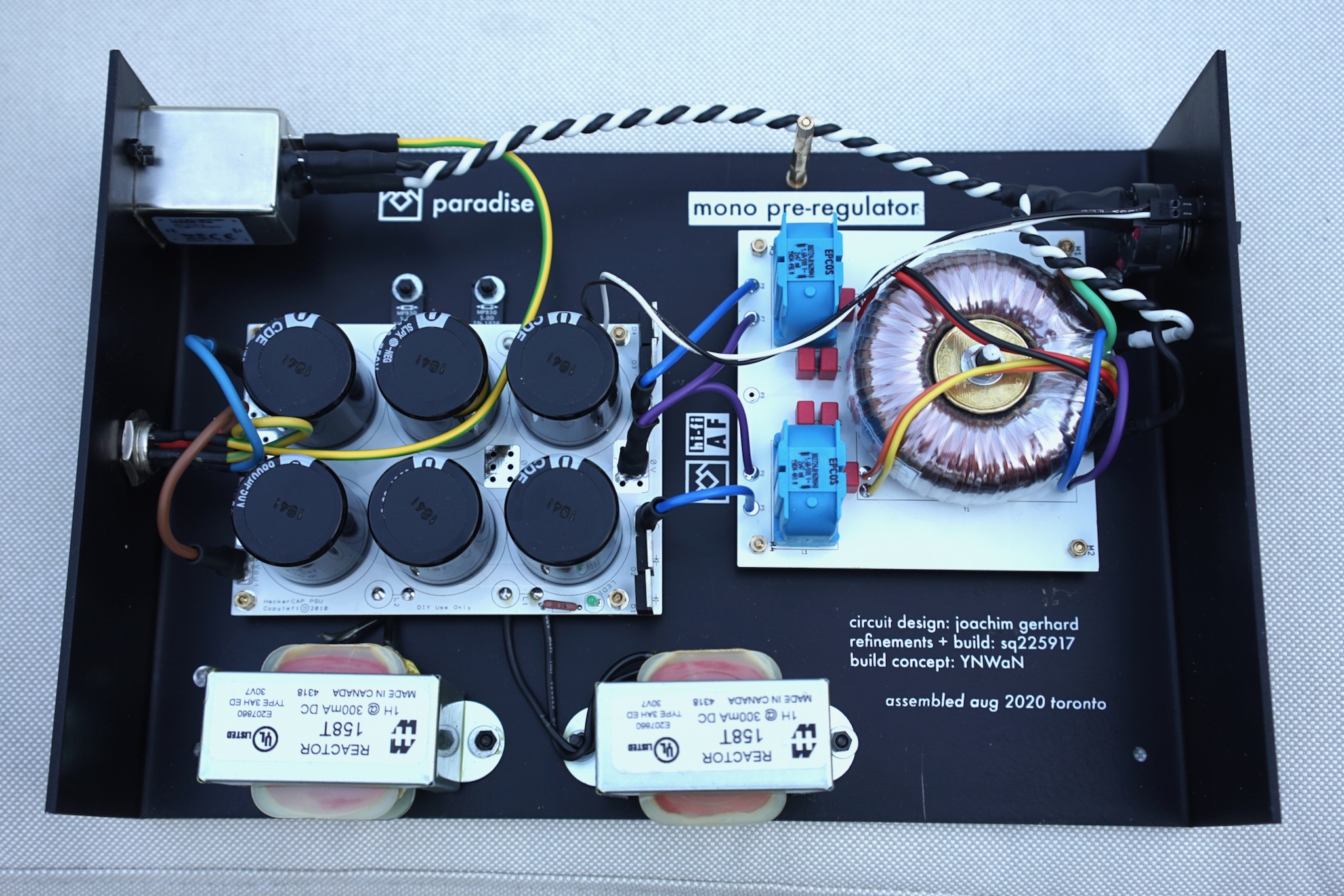 Site Admin
Posts: 6797
Joined: Wed Apr 27, 2011 2:02 pm
That all looks fantastic Adam - now make it play music
- I cannot wait!
Mark
Posts: 1526
Joined: Tue Apr 28, 2020 12:49 am
Contact:
The one thing I'm unhappy with aesthetically are the power connections to the main boards. I'll put in some like you have at some point, Mark.

Yes, music soon! Run, then dinner, then I'll finish up the last PSU and listen!
Site Admin
Posts: 6797
Joined: Wed Apr 27, 2011 2:02 pm
Oh, you mean screw down connectors? I don't think that's a better solution than what you have done (not worse, but not better either). Is it because you think the connectors are crowding each other a bit?
Mark
Posts: 1526
Joined: Tue Apr 28, 2020 12:49 am
Contact:
They just look a bit sloppy to me and take a somewhat indirect route... but I do like the "amp blade" connectors!
I write this message while in my second half hour with a working Paradise! Trying not to make any judgments and just focus on the task Si has given me, getting all sides to read 17.85v
Photos to follow in a bit...
Also, seriously, every Javelin and Aro owner needs to get Bill Callahan's amazing album Dream River, which has a theme song for each tonearm...
Posts: 1526
Joined: Tue Apr 28, 2020 12:49 am
Contact:
Some more process shots from earlier today.
Lots of cable work today. I used the Neotech solid core OPCC copper 24awg PTFE stuff that Si recommended (perfect colour match for the Paradise PCB, by the way!). I used Mark's vice+drill trick to twist the wire, and it worked VERY well! As Mark warned me, though, the Teflon is a pain to work with, require lots of fine exact work. It really can't be stripped easily with one end soldered in place, so I made sure to get the cable totally cut to length and stripped before soldering. How did I know which cable was which? Continuity probing with my multimeter!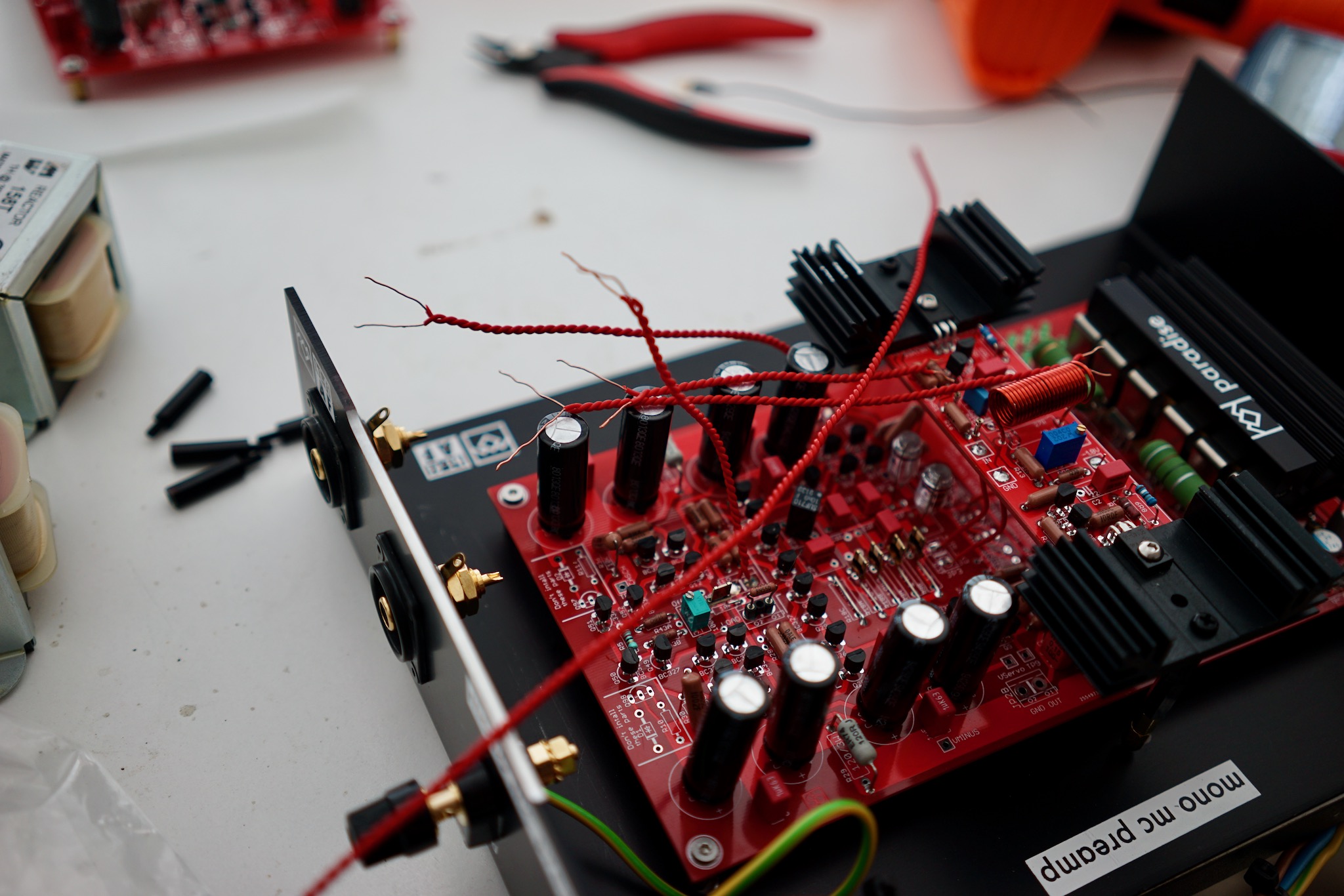 One of those unexpectedly harmonious visuals that sometimes coalesce in a totally mess: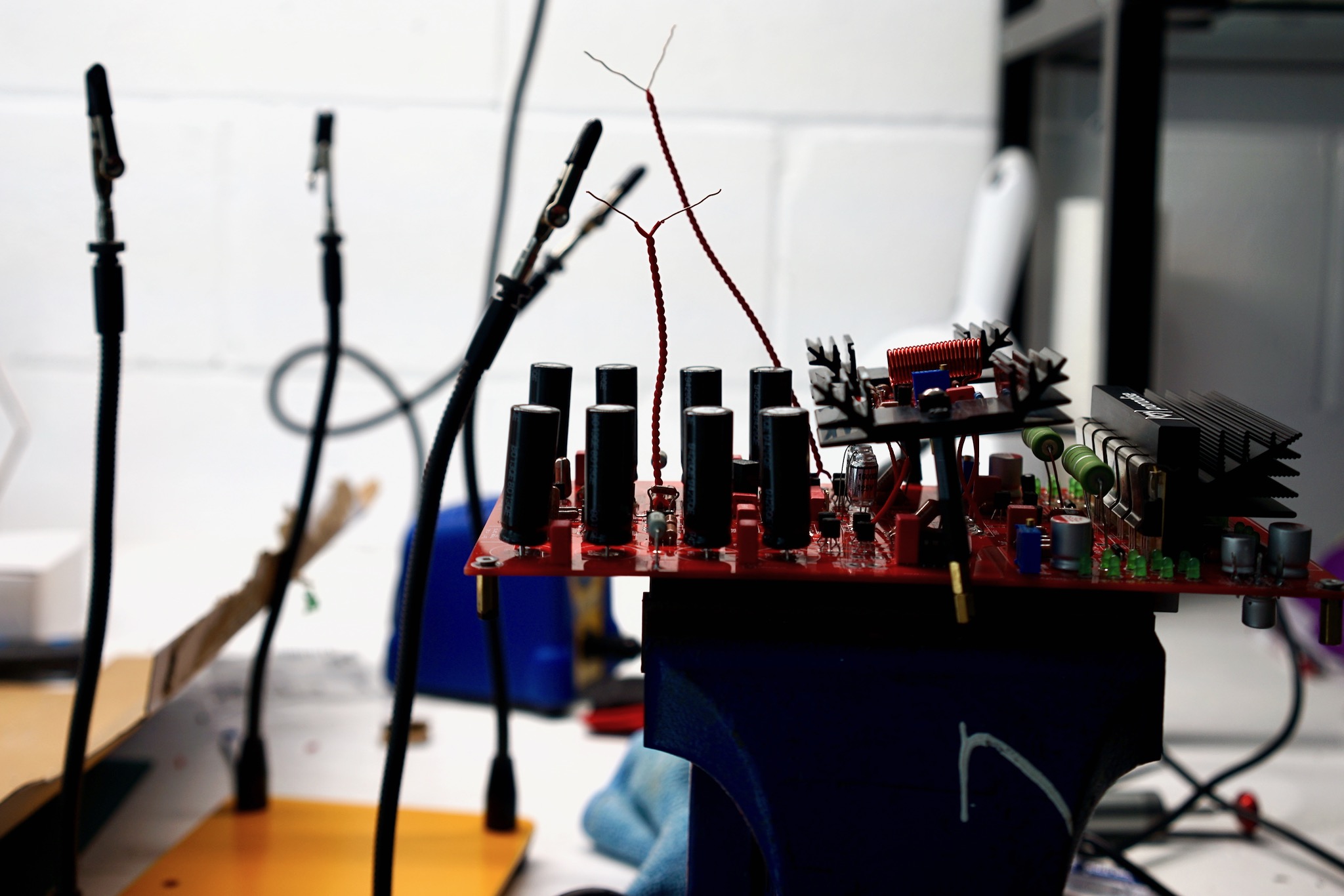 Soldering to the Neutrik RCAs was very easy. They're great -- I recommend them highly. And there's no problem with getting huge RCA plugs into them -- they leave tons of space.
I decided to start with loading resistors around what Mark uses in his Paradise with his Troika (866 ohms). The closest Mouser had was 845, but happily both the ones I got measured exactly 860 ohms on my DVM. Here's one in the SIL socket I'm using for the cart loading resistor. A polystyrene cap is attached to the socket's legs underneath the board (I was very careful not to melt it... Also, I couldn't help putting on an X-Ray Spex album as I worked on the Poly Styrene cap...)
--
Okay, final voltage tests complete. Si, I was about +/- 17.70-17.80 the first go, then I got everything to 17.85 after 30 minutes, then thirty minutes later they'd all drifted back to 17.75-17.80, so I dialed them back up to 17.85. All done or should I keep checking?
--
This is what weeks of obsessive work on the Paradise has resulted in: a total mess in the garage, tools and silk screening supplies everywhere.
Anyway, this was one last check before listening. (They voltage to the shunt was 26.0-26.2 on all channels tonight...)
Note the tiny phono stage that is being replaced by... a huge one.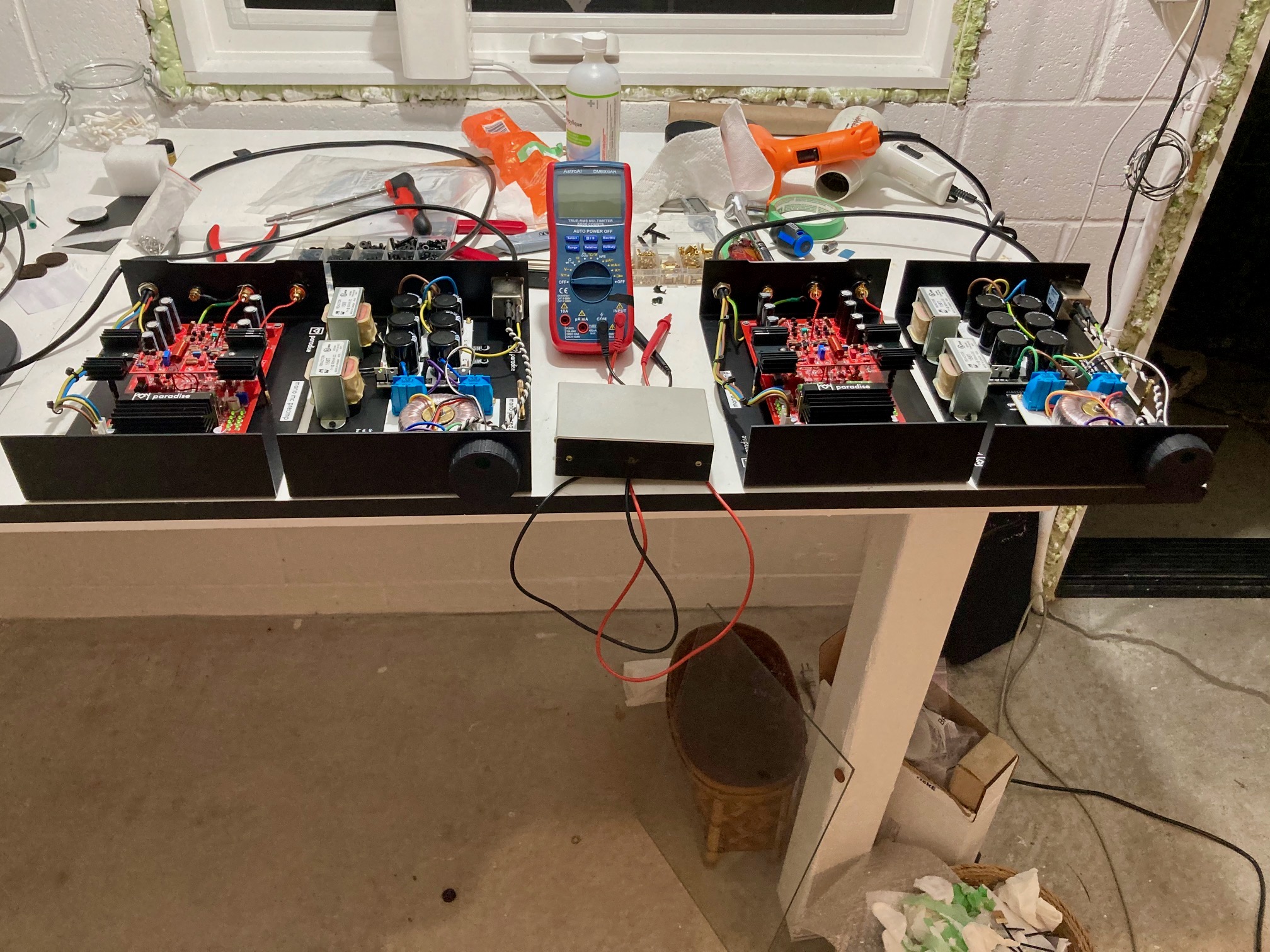 Here are all four boxes setup and working for the first time. This is the arrangement I've been considering for permanent installation. It would certainly give all the boxes lots of space from one another. Signal on the lower shelf, anything with a transformer on the top shelf. Not sure where I'd put the Mober DC box in this arrangement, though... (ObviouslyI will route the cables in a neater fashion; indeed, it wouldn't be too hard to hide them completely.)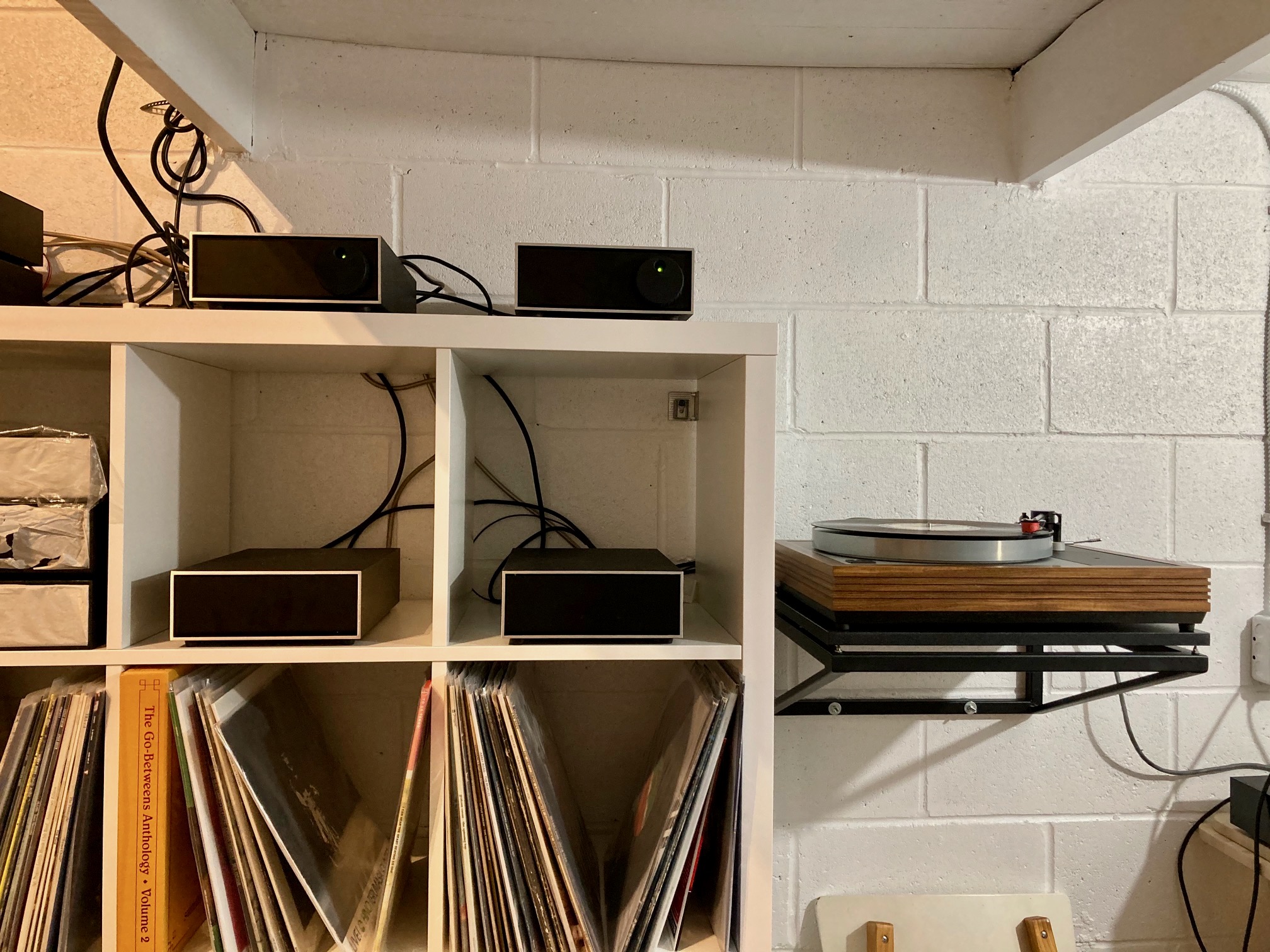 So my first impressions of the Paradise:
Practical stuff: grounding seems fine (I just have the grounding post running to signal ground on the right channel), no extra hums. Amusingly given the size differential, the output of the Paradise is MUCH lower than the P75 -- I'm at 12 o'clock on the volume dial to get to where I would be on 9 o'clock with the P75. No complaints, though, 9 o'clock was ear-splitting, so now I have more useable volume range.
Sound impressions: texture and clarity. Cymbals and snares are sounding terrific. Music is "fast." I'm getting that "black background" feeling that I think just means everything is placed really clearly in the soundstage. I've had the "well that's an instrument I've never noticed before" experience a few times tonight, but mostly it's just perking up at clarity and nice textures. I have lost some bass heft, which probably just means I need to adjust my VTA and tracking weight on my tonearm once again. I have read the P75 exaggerates bass... but then it's literally the only phono stage I've ever owned before today, so I've not had anything to compare it to...
Records I've listened to: Low, The Invisible Way; Bill Callahan, Dream River; Prince Lasha, The Cry!; Little Scream, Speed Queen; Pentangle, s/t; Can, Ege Bamyasi.
More in due course, and more photos in better lighting.
Tomorrow I'll see if I can get the fascia on...
Last edited by
hifiaf
on Thu Aug 13, 2020 7:38 am, edited 1 time in total.
Posts: 977
Joined: Sun Mar 29, 2020 8:32 am
Great stuff Adam, really enjoyed watching this come together.